Policy Brief on the Export of Oil Palm Seeds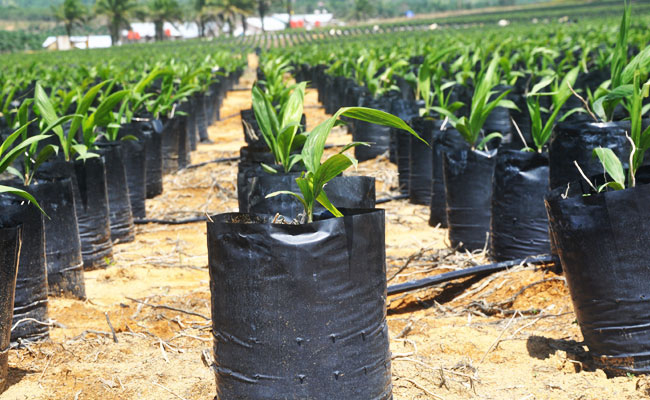 The Plantation Sub Sector contributes 27% to the Agricultural GDP, while the role of the Agricultural Sector to the national GDP is 12.98% of which 3.5% comes from oil palm. When viewed from the value of exports, the contribution of the plantation sub-sector to the export value of the agricultural sector reached 94.58% (Rp. 331.85 T) with the main commodity  oil palm being the main source of income for around 17 million heads of household farmers and employees. As the world's largest producer of palm oil, Indonesia's CPO export value reaches 46.8% of the total world export value, with the largest importers China (17.47%) and India (11.96%). Indonesia's exports have the opportunity to increase not only from CPO and its derivatives, but also from seed exports. Several countries, especially India, Peru, and Nigeria have begun to increase their oil palm plantation business by importing palm seeds.
Seed exports must consider domestic needs, because farmers in general still find it difficult to obtain superior quality seeds and are often tricked into using random seeds. In addition, the licensing process for the export of oil palm seeds requires policies that are aligned with interrelated regulatory provisions, such as: (1) UU no. 39/2014 concerning Plantations; (2) UU no. 22/2019 concerning Sustainable Agricultural Cultivation Systems; (3) Minister of Agriculture Regulation No. 50/2015 concerning Production, Certification, Distribution and Supervision of Plantation Plant Seeds; (4) Minister of Agriculture Regulation No. 18/2016 concerning Guidelines for Rejuvenating Oil Palm Plantations; (5) Minister of Agriculture Regulation No 26/2021 concerning Guidelines for the Production, Certification, Distribution and Control of Oil Palm Seeds (Elaeis guineensis Jacq.).
Currently, oil palm plantations in Indonesia have advantages, including: (a) geographic and agro-ecosystem suitability, (b) availability of technology and innovation, (c) availability of seeds, (d) large employment absorption. Therefore the development and sustainability of production is guaranteed. On a world scale, Indonesia ranks first as the largest producer of palm oil with a share of >50% with production of 48.235 tons of CPO per year, with an area of 16.38 million ha. The other four main palm oil producing countries are Malaysia, Thailand, Columbia, Nigeria with a total CPO production capacity of 23,639 metric tons per year, still far below Indonesia's potential. But only a small proportion of land in Nigeria is agroecologically suitable and has the potential for oil palm. Peru as a country that also plans to import seeds from Indonesia has a very suitable to marginal agroecology for oil palm, especially in the Amazon plains which are still forested.
The positive impacts of palm seed exports include; (a) Encouraging the national seed industry and optimizing production potential and the national seed market; (b) increasing domestic added value in the form of product diversification; (c) Confidence in Indonesian technology increases and international (bilateral) relations with export destination countries are maintained, and can even increase Indonesia's bargaining position in trade; (d) Supporting government policies in increasing exports of high-value commodities and increasing the country's foreign exchange earnings. While the potential loss of oil palm seed exports includes: (a) socially and politically linked to the disruption of the ability to supply oil palm seed needs at PKSR (community oil palm rejuvenation); (b) Encouraging the acceleration of oil palm development in other countries that have the potential to become competitors to Indonesia and disrupt price stability; (c) Export of seeds has the potential to affect the availability and fulfillment of domestic superior seed needs and risks suppressing PKSR efforts and increasing national oil palm productivity; and (d) although theoretically the Tenera D x P hybrid type export oil palm seeds cannot be reproduced by the importing country so that the genetic resources are preserved, the opportunity to be used for research/local needs in the future is still possible.
This PB recommends the Governance of Oil Palm Seeds and Exports as follows: (1) It is necessary to immediately improve the management of oil palm seeds in a precise and thorough manner, starting from the system of production, certification, distribution, quality control and distribution to use and export (export); (2) Evaluate and revise existing and still necessary regulations related to the management of oil palm seeds so that the problem of circulation of counterfeit seeds can be overcome, and the production of superior seeds can be realized according to domestic and export needs; (3) Establishing improved regulation on overall seed governance in relation to oil palm seed export policies based on the results of comprehensive studies and studies (technical, social, economic, political); (4) Requests for importing palm seeds by importing countries can still be fulfilled by considering, among others, the lack of land suitability potential for palm oil development in importing countries and considering bilateral relations with importing countries; (5) Seed production permits, especially for India, Peru and Nigeria can be issued as a short-term policy (only valid until 31 December 2022) with certain conditions. Policies after January 1, 2023, can be set as definitive policies for the medium-long term, adjusted to the results of scientific studies and analysis through the Comprehensive Study which will be conducted in the near future.